If you need to be seen at the top of search or need an aggressive marketing approach, we would suggest using PPC (Pay Per Click). Pay Per Click marketing plan you can achieve immediate results and traffic to your website. If you have a promotion or are looking to gain immediate traffic within an hour we strongly suggest using PPC. 
What is PPC or SEM?
It's Paid Search Marketing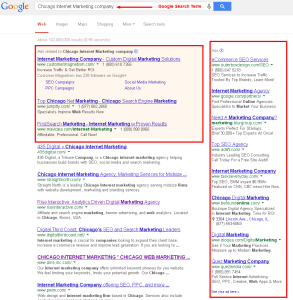 SEM is the process of gaining traffic by purchasing ads on search engines. It is also called paid search and sometimes referred to as CPC (cost-per-click) or PPC (pay-per-click) marketing, because most search ads are sold on a CPC / PPC basis.  SEM is short for "search engine marketing," which once was used as an umbrella term to encompass both SEO (search engine optimization) and paid search activities. However, over time, many adopted the SEM acronym to refer solely to paid search. AdWords by Google is by many measures the most popular paid search platform used by search marketers, so there are guides that offers a useful introduction.
 Here's A Breakdown of PPC
So when a potential client is using one of your keywords to search for service in the following areas below.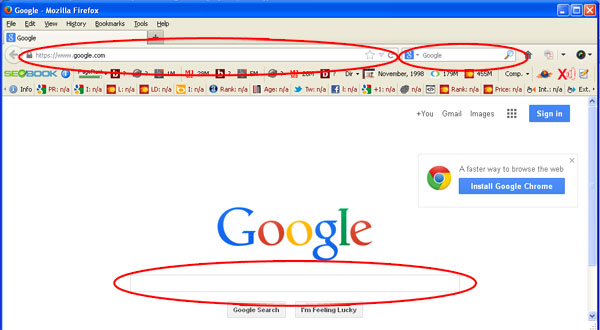 Our Chicago PPC Process
In the PPC world, everything comes down to numbers. And there are a few numbers that speak volumes.  While Google will tell you that a 2.0% conversion rate is an ambitious target for a successful PPC campaign. All of our work is completely within your PPC accounts. We just take care of everything while you're working with us. The work we do and the accounts themselves always stay with you and your business, with or without DINS, Inc. We understand that PPC accounts and their history at Google AdWords and others are a business asset for each of our clients, and at DINS, Inc.  we keep it that way. Your campaigns are always fully accessible, transferable and funded directly. We do not hold accounts in our name, or flow any of your PPC budget through DINS, Inc. This is what we call "Complete Transparency."
How Can We Help You with Your PPC
We are proud of our work and ability, and fully believe achieving the best results starts with a great foundation, and that foundation is your setup. To start the process, we conduct an in-depth interview with each new client to develop a personal and meaningful relationship from which to build. We start by learning about your business, goals, past experience, customers, competition, competitive advantages, and really anything at all related that can help us maximize your advertising investment. We then start the process of getting your accounts ready to launch online. This includes: a full keyword analysis, keyword organization, copy writing for multiple ads in each group, proper platform settings to maximize results demographically, budget monitoring, and much more. PPC platforms offer many options that businesses need to be aware of to get maximum results, and we make sure everything is in place properly from the start.
Due to the competitive, real time nature of these accounts, it is necessary to monitor, strategize and make changes on an ongoing basis to achieve the best possible results. For this service, we charge a flat ongoing monthly management fee based on your budget and keyword.
Set up Cost $795/ Monthly $250
Budgets of $500-700 per month
100-250 Keywords
| | | | |
| --- | --- | --- | --- |
| Account Profile Set Up | Keyword Research | Setup For Up To 100-250 Keywords (with low to mid and high volume traffic) | Local/Geo Targeting or Zip code Targeting |
| Setup For Up To 10 Ad Groups | Ad Campaign Copywriting | Competitive Research (on setup only) | Google quality score report |
| Google Analytics Integration & Goal Tracking | Custom Campaign Setup Bid Management | Ad Positioning To Ensure Optimal ROI | *Ongoing Campaign Review And Development |
| Email Support | Monthly Client Communications | Monthly PPC Reports | Text Ads |
Have questions please contact us at 773-895-6405, we'll be more that happy to assist you with your PPC campaign.