Internet marketing case studies
Real Solutions for Businesses Like Yours
Just over a week ago I launched a new site, I thought I would tell you how I did it and what the results were so you could learn from my experience. The small twist with this launch was we planned to use only Twitter and Facebook…
As you can see, after the second week the site had received 8,000 page views, from nearly 5,000 visitors. In fact, the reason why we didn't post this case study earlier is that it is still getting visits and I didn't want to draw conclusions too early. As well as visits, it also gained over 200 email sign ups, and was retweeted over 300 times.
What are your users clicking on and digging deep within your website analytics
Dig a little deeper and find out where people click based upon the things like: Top 15 Referrers, Search Terms, Operating System, Browser, etc... Have you ever wanted to know what type of traffic clicks you get?
By using this key bits of data we can set up an internet marketing case study that will assist you, but save you money, transform your business, increase sales but leave you excited about your website.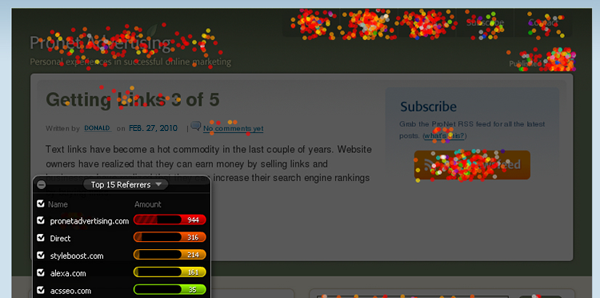 We've consulted with major and small businesses. Here are some of the clients we have consulted with below and on various brands.